Event Details
Bioenergetičar M. Omerović je u svijetu prepoznatljiv po svojoj jedinstvenoj metodi liječenja bioenergijom. Neupućene osobe su sklone reći da svi bioenergetičari rade na isti način i da je razlika među njima minimalna. Svi vi koji ste imali priliku biti kod nekih inih bioenergetičara koji rade po metodi… nekoj i nečijoj, bit ćete nemalo iznenađeni kad vidite na koji način radi bioenergetičar Omerović. Njegov način liječenja nije ni nalik na te načine i metode kojima se služe drugi bioenergetičari. A tek rezultati? Rezultati su vidljivi još tokom samog tretmana.
Ruka na bolnom mjestu osnovno obilježje Omerovićeve metode liječenja
Baveći se bioenergijom više od četvrt stoljeća, Omerović je razvio jedinstvenu metodu liječenja. Osnovno obilježje te njegove metode je ruka na bolnom mjestu, odnosno na mjestu gdje je problem.
Za razliku od drugih koji se bave sličnim načinom liječenja, a nazivaju se kao i on, bioenergetičari, Omerović ne izvodi nikakve ritualne pokrete (mahanje rukama, ''ljuljanje'' i slično). Kad ste kod njega na tretmanu dozvoljeno vam je da sjedite kako želite. Nije zabranjeno prekrižiti ruke i noge. Možete čak i prošetati. Smijete međusobno komunicirati i naravno smijete bioenergetičara Omerovića, o svemu što vas interesuje, pitati.
Shvatanje i tumačenje ovog vida liječenja i objašnjenja koja ćete od Omerovića čuti umnogome se razlikuju od objašnjenja koja dobijate od drugih bioenergetičara.
Morate li vjerovati da će vam biti bolje da bi vam i bilo bolje?
Kod raznih alternativaca obično čujete riječi da morate vjerovati da će vam biti bolje. Jer ako sebe ne ubijedite da će vam biti bolje, vama nema pomoći. To je u stvari nemušti pokušaj izazivanja placebo efekta.
Kod Omerovića kad dođete ne morate vjerovati da će vam biti bolje. Možete biti skeptik. Bitno je samo da dozvolite da vam se pokuša pomoći. Rezultati Omerovićevih tretmana nisu placebo efekat. U više od 90 odsto slučajeva osobe su zadovoljne učincima tretmana.
Osobe koje tokom tretmana ne osjete poboljšanje, nisu obavezne platiti tretman!
Ono što ga razlikuje od većine osoba koje se bave liječenjem alternativnim metodama jesu rezultati koji su vidljivi još tokom samog tretmana. Cijena tretmana je 75 eura po osobi i plaća se nakon tretmana.
Osobe koje tokom tretmana ne osjete poboljšanje, nisu obavezne platiti tretman.
Koliko puta se mora doći na tretman kod bioenergetičara Omerovića?
Bioenergetičar Omerović nikad ne kaže da neko mora prisustvovati određenom broju tretmana. Idealno bi bilo kad bi se u što kraćem roku, ako je ikako moguće dan za danom, doći četiri puta na tretman, pa da se napravi stanka od 15-20 dana pa da se eventualno tretman ponovi. To, naravno, trenutno nije moguće s obzirom da se bioenergetičar Omerović tokom svojih turneja rijetko gdje zadržava više dana.
Preporuka je (ne i obaveza) da se dođe bar dva puta, ukoliko se žele iole ozbiljniji rezultati.
Da li je moguće sve zdravstvene probleme riješiti odjednom?
Veoma je bitno, pogotovu za osobe koje imaju mnogo, a neki za sebe kažu, i bezbroj problema, opredijeliti se za jedan problem koji želite prvo riješiti. Nelogično je, a i megalomanski je, očekivati da će vam nakon samo jednog tretmana svi problemi nestati i to zauvijek.
Kao i u svemu i ovdje vrijedi pravilo – TREBA BITI SISTEMATIČAN I TEMELJIT.
Kad idete kod ljekara ni tamo ne idete da vam sve probleme odjednom riješe. Niti to iko očekuje.
Osobama koje bi više puta da budu na tretmanima kod bioenergetičara Omerovića na tretmanu, trenutno, osim tretmana "FACE TO FACE"  imaju mogućnost koristiti i POJEDINAČNI TRETMAN BIOENERGIJOM NA DALJINU.
Uslovi i način pristupa tretmanu
Glavni uslov je da rezervišetete termin za tretman. Osobe koje unaprijed ne rezervišu termin za tretman neće biti u mogućnosti prisustvovati tretmanu.
Preporučeno je da rezervišete termin za tretman preko web stranice www.omerovic.eu .
Osobe koje nisu u mogućnosti rezervirati termin za tretman preko interneta, mogu to učiniti na telefon +43 667 7749222, (od ponedjeljka do petka od 10 do 20 sati).
Osim rezervacije,  na taj broj ćete moći dobiti i sve informacije koje vas interesuju u vezi bioenergetičara Omerovića, njegovih tretmana i njegove Energizovane kreme (Energizovana Čudotvorno Djelotvorna Krema®). Za sva pitanja na usluzi će vam biti asistentica od bioenergetičara Omerovića, Nina.
Šta je još potrebno znati?
Bitno je da dođete 15 minuta prije naznačenog početka tretmana. Osobe koje iz bilo kojih razloga ne žele ostati na tretmanu do kraja (iako je to preporuka bioenergetičara Omerovića svima) potrebno je da to naglase prilikom dolaska na lokaciju gdje će tretman biti.
U ovom video možete vidjeti kako izgleda "FACE TO FACE" (licem u lice) tretman.
Tretman "FACE TO FACE" (LICEM U LICE) se sastoji iz dva dijela
Tretman "FACE TO FACE" je tretman u ličnom kontaktu sa povrijeđenom ili bolesnom osobom. Ono što karakteriše Omerovićevu bioenergetsku metodu liječenja jeste obavezni kontakt ruke sa bolesnim ili povrijeđenim dijelom tijela. Kod tretmana bioenergijom na daljinu, ruku na bolno mjesto stavlja onaj kojem je potreban tretman, dakle bolesna osoba sama sebi ili neko ko je tad uz osobu kojoj se radi tretman.
Ovaj tretman sastoji iz dva dijela i sve vrijeme se odvija u neposrednom prisustvu bioenergetičara Omerovića. Prakticira se tek dvije godine.
Prvi dio je uzet iz "Tretmana na daljinu".
U tih prvih pola sata, na znak bioenergetičara Omerovića da terapija počinje, osobe koje su podvrgnute tretmanu bioenergijom, same sebi stavljaju ruke na bolno mjesto.
Nakon pola sata, sklanjaju ruke i tad počinje drugi dio samog tretmana.
Drugi dio je u stvari klasični "face to face" (licem u lice) tretman, koji je do prije par godina bio najčešće prakticiran. Bioenergetičar Omerović izvodi pojedinačno svakog ko je došao na tretman do masažnog stola i na masažnom stolu naizmjenično svojim rukama pipa bolno mjesto i polaže dlanove.
Dok traje to pipanje bolnog mjesta, odnosno mjesta gdje je problem, i polaganje dlanova, još tokom samog tretmana bol, odnosno problem zbog kojeg je osoba došla nestaje ili se znatno reducira.
Bitno je još naglasiti da dok ste u prostoriji gdje je tretman, poželjno je da što duže držite sebi ruke na mjestima gdje je problem. Čak i nakon što ste bili na masažnom stolu kod gospodina Omerovića. Na taj način i rezultat kojim ste zadovoljni možete učiniti još boljim i dugotrajnijim. A ukoliko imate više problema možete tretirati druga bolna mjesta koja bioenergetičar nije tretirao.
Za više video klipova posjetite naš oficijelni YouTube kanal.
Kod kojih vrsta zdravstvenih problema pomažu Omerovićevi bioenergetski tretmani?
Na tretman kod bioenergetičara Omerovića možete doći zbog ''SVEGA ŠTO BOLI BEZ OBZIRA DA LI JE UZROK BOLA POZNATOG ILI NEPOZNATOG PORIJEKLA'' (Razne sportske povrede, povrede na poslu, povrede mekih i tvrdih tkiva sa ili bez hematoma, bolovi od nepravilnog sjedenja, ukočenost …). Osim toga bioenergetičar Omerović uspješno tretira i osobe sa blažim depresivnim poremećajima (fobije, anksioznosti, panični napadi) a njegova metoda kojom liječi se pokazala izvrsnom kao antistresna terapija.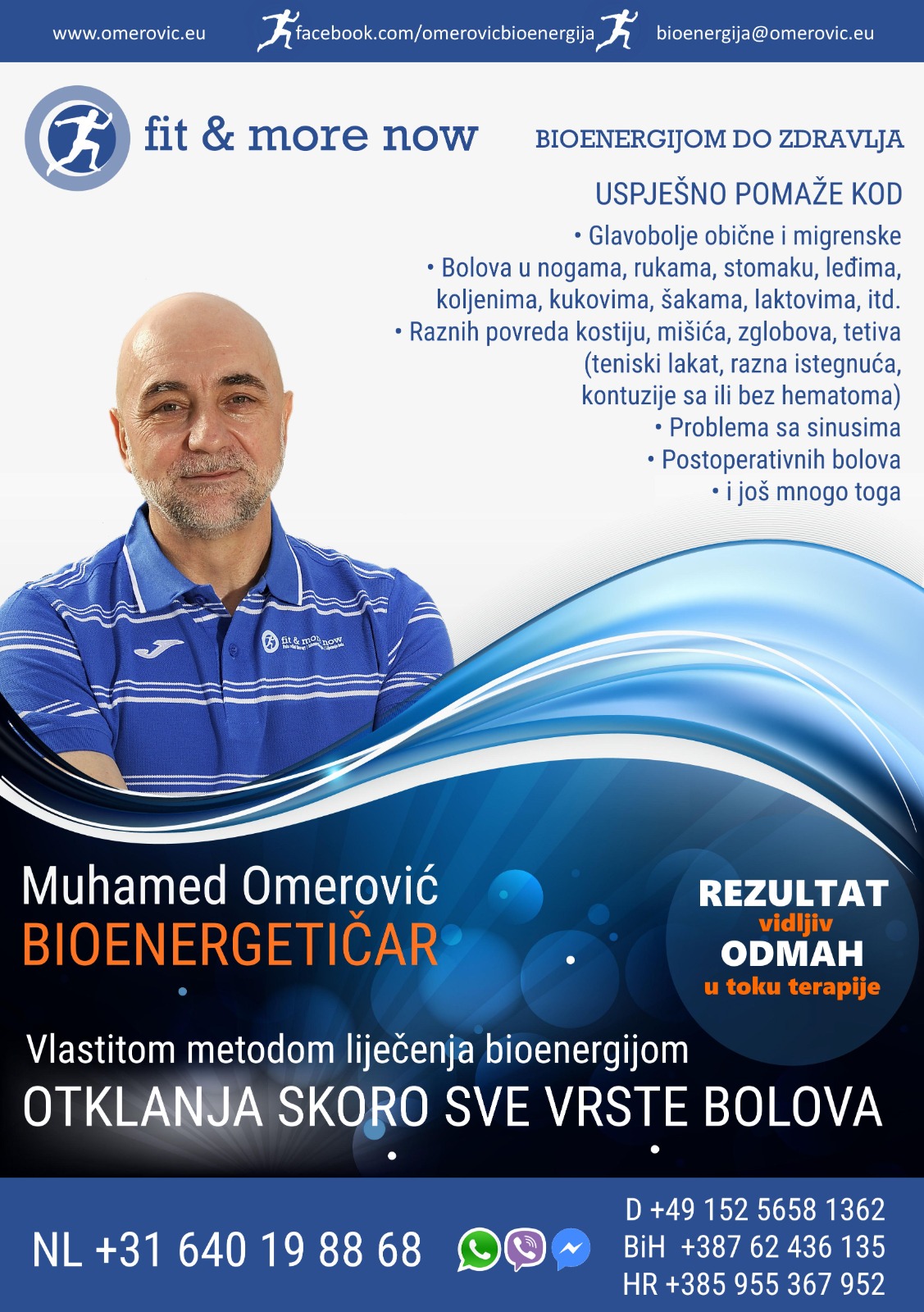 Kod Omerovića, bilo da ste na tretmanu face to face, tj. u ličnom kontaktu ili na tretmanu na daljinu ne važe pravila koja važe kod drugih "bioenergetičara". Možete sjediti kako hoćete. Možete prekrižiti ruke i noge, razgovarati, jesti, piti, pjevati, čitati, slušati muziku, gledati televiziju, telefonirati, šetati… Nije potrebno, kako kvazibioenergetičari kažu, da se "otvorite da bi ste mogli primiti energiju" niti da "svoje misli usredotočite na bioenergetičara". Ne morate vjerovati da će vam biti bolje, da bi boljitak i nastupio.
Senzacije, koje većina osjeti su nešto na što ne trebate obraćati pažnju jer to nije bitno za uspjeh tretmana. Omerović poziva skeptike da se uvjere u djelotvornost njegovih tretmana. Kod Omerovića možete čak i spavati na tretmanu.
Pošto Omerovićevi tretmani nisu rezultat placebo efekta, Omerovićevom metodom moguće je tretirati djecu i životinje. Upravo kod te dvije kategorije postižu se nevjerovatno dobri rezultati.